Hormone Therapy for Women
Custom Natural Hormone Replacement Therapy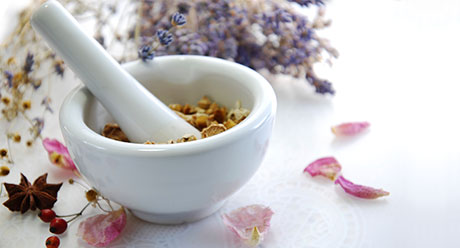 As women approach menopause, they may experience hormonal imbalances that affect the quality of life. Hormone replacement therapy (HRT) may ease common symptoms including hot flashes, night sweats, decreased libido, moodiness, and vaginal dryness.
Other conditions where HRT may be prescribed to treat include bone loss, depression, Endometriosis, fatigue, fibrocystic breasts, infertility, irregular menstrual cycle, migraines, post-partum depression, pre-menstrual syndrome (PMS), sleep disorders, water retention, and weight gain.
Synthetic estrogen has been the conventional treatment used for women to treat menopausal symptoms and to help protect them from osteoporosis. But there are other options available for women that require hormone therapy. One option is the use of natural hormones versus synthetic. Peri-menopausal and menopausal women's needs may be met by using plant-derived hormones that are chemically identical to those that occur naturally in women.
Natural hormone therapy can be valuable since no two women are the same and the therapy can be tailored to fit a woman's individual body and hormone levels. The hormones can be made in different strengths and dosage forms such as capsules, topical creams and gels, suppositories and sublingual troches or lozenges. HRT therapy may help restore a woman's hormone balance as well as relieving the symptoms caused by the natural decrease in production of hormones by the body.
To help our patients through the process of HRT, Specialty Pharmacy offers laboratory testing and comprehensive women's consultations. For more information on consultations and to find our confidential online questionnaire form, please click on the Consultations tab above or to the left and select Consultations for Women.
To learn more about natural hormone therapy, contact your doctor or Specialty Pharmacy. Together we can help you begin and sustain a natural hormone replacement regime that closely imitates what your body has been doing naturally for years.